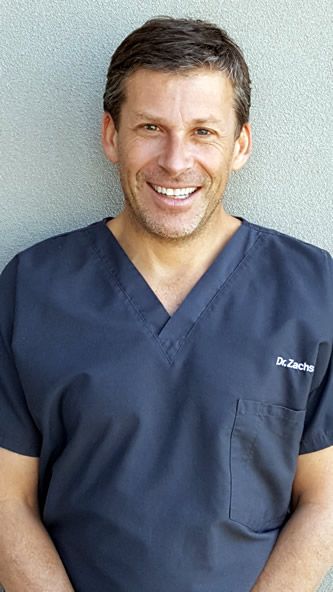 Dr Zachs is a periodontist and is very excited to be working with the great team at Canyon Ridge Endodontics. Growing up in New England, he attended the University of Connecticut, School of Dental Medicine and graduated from there with his DMD Degree in 1992. He then went on to a 3 year Periodontal Specialty Residency at the University of Nebraska. While there, in conjunction with the University of Texas at San Antonio, he also completed his Master of Science (MS) degree in Maxillofacial Radiology. He was the first at the time to complete a 3-year longitudinal study looking at the Association Between Estrogen and Alveolar Bone Density Changes in Postmenopausal Women. His study was published in the Journal of Periodontics.
After his residency, he went on to a 21 year private practice career in South New Jersey growing his office to the largest dental surgical specialty practice in his 3 county area. In private practice, he performed all types of hard and soft tissue grafting techniques along with traditional periodontal procedures aimed at saving teeth. He has placed over 10,000 implants in his career and is proud to have used CT technology (3D Imaging) for enhanced diagnosis, treatment planning and guided surgery during the majority of his practice career. He is also one of few specialists in this area that is certified in the Chao Pinhole Surgical Technique which is a scalpel-free, suture-free procedure for correcting gum recession.
During his private practice career, Dr. Zachs was also an Assistant Professor in the Department of Periodontics and Oral Medicine at The University of Medicine and Dentistry of New Jersey (UMDNJ). While there, he taught senior dental students clinical Periodontics, along with lecturing during didactic sessions.
Last year, Dr. Zachs had the opportunity to sell his East Coast practice and decided to move out to Arizona, a place he and his wife have loved for many years. He lives in North Scottsdale with his amazing wife, Lisa. On his spare time he loves hiking, playing golf and enjoying all Arizona has to offer.